14 September 2023
Research project focuses on children's attention in an everyday life filled with distractions
GRANT
A large minority of Danish young people do not complete upper secondary education, and the well-being crisis among children and young people is on everyone's lips. A new research project aims to improve the academic and social well-being of schoolchildren and, in the long term, their ability to continue in further education. A key element is a teacher-led, research-based educational programme of self-reflection tasks and cognitive exercises targeted at middle school classes.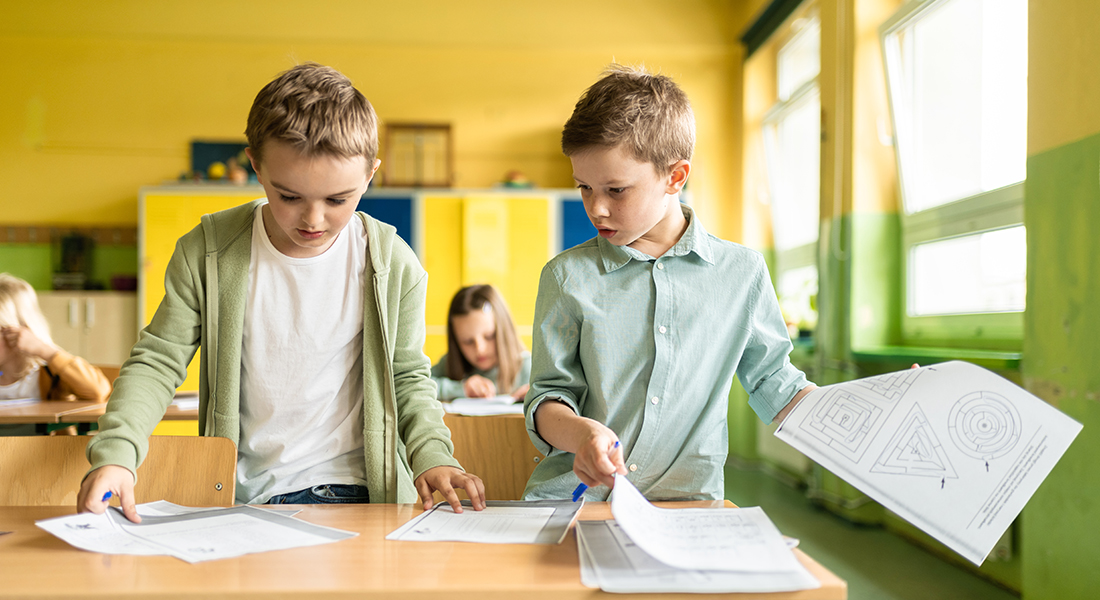 An increasing number of Danish children and young people experience well-being problems during their time at school. Many professionals point out that the challenges are amplified by constant distractions from digital media and social platforms both during and outside of school hours. In addition, almost one in five young Danes between the ages of 18 and 25 are neither enrolled in nor have completed upper secondary education. Reports have shown that this is a particularly vulnerable group which is also more frequently in contact with psychiatry and the legal system.
Aims to strengthen concentration and self-reflection
A new research project called "On Track 2.0" has received DKK 4.3 million from TrygFonden to assist children in 4th and 5th grade in developing the prerequisites for enrolling in and completing upper secondary education. 
"The purpose of our project is to improve the academic well-being of primary school pupils across subjects. Among other things, this will be done by training their cognitive control so that they can more easily maintain focus and regain concentration when they are distracted," says Signe Vangkilde, Professor at the Department of Psychology at the University of Copenhagen.
She is supplemented by fellow researcher and future PhD student on the project, Anne Marie Kristensen:
"We also want to train the children to reflect on which circumstances and strategies help and motivate them to learn. Our previous pilot project shows that this can create a calmer learning environment, which benefits both teachers and students and contributes to social well-being," she explains.
Help getting on track
Various initiatives have been implemented to support students who are not considered ready for higher education in 8th grade, however, the effects are often small or completely absent. The researchers behind "On Track 2.0" point out that these initiatives have typically been intensive programmes taking place outside the classroom and late during the lower secondary school years.
"We hope to be able to strengthen students' prerequisites at an earlier age – and within their regular teaching time in a universal programme targeted at the entire class group. This means that we support teachers in providing exercises to strengthen attention, cognitive control, and self-reflection, and that we work on building a sense of community in the class at the same time," says Signe Vangkilde.
The two researchers have developed and tested a pilot version of "On Track" in middle school, in which pupils were actively involved in developing strategies to improve their attention control and academic well-being. The programme is a universal, whole-class approach, but is expected to benefit the most challenged students in particular.
"The programme is designed to engage both teachers' and students' self-reflection, especially when it comes to their use of digital media, in order to facilitate a deliberate use and critical stance that is not about either prohibition or unregulated use," says Anne Marie Kristensen.
Strong collaborators
In the project, the research group collaborates with L&R Uddannelse+, which contributes by building and operating a digital platform where the learning materials will be available to ensure easy access.
In addition, the project also includes a collaboration with the Teacher Education Programme at University College Copenhagen in order to strengthen the integration between educational research and practice. The project is carried out with input and professional advice from national and international researchers from Canada, the UK and Australia.
Teachers and school leaders who might be interested in taking part in the project, or others who want to hear more, are welcome to get in touch: amhk@psy.ku.dk 
Topics